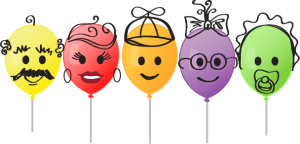 Welcome to Youthful Diversions!
We are a family-run business providing quality, FUN entertainment for parties and events in the Washington DC Metro area.
About Us
Our Services
Entertainment for All
For almost 40 years, Youthful Diversions has been providing FUN and ENTERTAINMENT in the Washington DC Metro area (Maryland, Virginia, and Washington DC) for decades. Let us help entertain your group, whether it be for Company Picnics, Birthdays, Mitzvahs, Parties, Corporate Events, Holidays, or School and Church Fairs.
Here are some of the great services we offer:
Maybe you need Carnival Games or Crafts to keep the kids occupied. Youthful Diversions is the team for you.
Funny Fotos are our original artistic paintings that add a festive atmosphere to your event as well as a permanent take home photo memory of the day. Youthful Diversions is standing by with a great variety for you to choose or customize.
Fall Picnics are the perfect venue for Scarecrow Making and Pumpkin Decorating. Youthful Diversions makes it happen.
Youthful Diversions can make it a turn-key smooth operation for the chairperson. Since 1978, we've customized a variety of events for people who are looking for someone to carry out their ideas, or develop a unique approach to enhance their event. Youthful Diversions would be honored to serve you.